Family and Community Reintegration Projects
Whilst much attention in Malawi has been focused on the plight of orphans, little has been done to tackle the problem of the increasing number of children coming onto the street. At present, there is limited space in orphanages and shelters for the homeless children, leaving many of them to sleep on the streets. While worldwide research shows that children's homes should be the last resort as they often create more dependency, our experience has shown that reintegrating children back into their communities without proper strategies, results in children returning back onto the streets.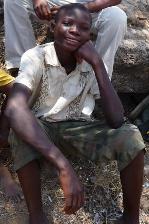 Chimwemwe's own experience has shown that one of the key underlying causes of children coming onto the streets is the loss of one or both parents through HIV/AIDS. Over 75% of the children are in this situation, with the death of a parent often precipitating the collapse of a family that is already struggling against poverty. The majority of the children are looked after either by the extended family (especially step-parents and grandparents) whose meagre resources are over-stretched and who are reluctant to take extra 'burdens'. In the end, it is often hunger, or the abuse they suffer with these relatives that forces them out of the home. Other factors that contribute to children being on the streets include: neglect and rejection by some parents and relatives including step-parents; destitution due to poverty, unemployment and/or alcoholism; child delinquency and criminal behaviour as a result of being brought up in criminal families or surroundings. Some parents go to the extent of enticing their female child into prostitution to generate some income. Other people take advantage of the children being orphans, recruiting them into brothels. This exploitation risks the lives of girls especially, increasing the chances of contracting HIV/AIDS and other sexually transmitted infections.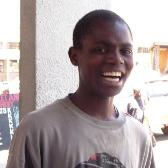 Chimwemwe has already teamed up with other organizations offering accommodation to street and other vulnerable children so that they have a base from which they can attend school and also protection from the abuses they suffer from being on the streets. It has already demonstrated through its achievements that by helping children to these organizations, children in the end are reintegrated into communities and schools. Chimwemwe's experience has shown that, by developing the dignity and responsibility of the child and family and giving them the opportunity to make different choices for the future, the children can succeed in school and develop skills that enable them to fulfil their potential and contribute to the development of Malawi, rather than be drawn into dangerous forms of child-labour, including child prostitution, drug-selling and theft.
To date, Chimwemwe has worked with 98 children (91 boys and 7 girls), building relations of understanding and trust with them. Over 75% of these children have lost one or both parents, predominantly from the effects of the HIV/AIDS pandemic. The project has already assisted over 20 children to return back to school. Those children have been provided with school uniforms, school funds and writing materials. For those in secondary schools, Chimwemwe has paid for text books, school fees, and school funds. 70% of them have passed their end of term exams.
Chimwemwe will support Family and Community Reintegration in the eastern and southern part of Malawi in the following ways:
Family reintegration
Make family reintegration a number one priority in the work with the children so that children are reunited with their families
Link each child with a social worker as a mentor to counsel, plan for future dreams and reintegration
Make genograms with each child and other family members as soon as possible to build up clear and detailed information about family ties and hence secure safe places where children can stay to solve problems
Visit the families of newly incorporated children as soon as possible within a month to monitor whether reunification and relationships are conducive to child retention in the homes
Carry out an in-depth pre-reintegration assessment of the family and cultural set-up for better understanding for proper interventions and counselling
Carry out in-depth family and child counselling to help them identify and resolve issues that that force children to go to the streets
Sign a reintegration agreement with Chimwemwe, child and family to define responsibilities for effective reunification and support
Involve the village chief in the reintegration process, including neighbours as witnesses to the agreement so that they become part of the problem solving
Help the communities to form parenting support groups to share ideas on how best to deal with root causes of street children right back in the villages
Distribute footballs to reintegrated children where teams have been set up to keep children busy and retain them in the villages
Post –reintegration support
Develop strong links with local leaders, churches and Community Based Organizations (CBO) to provide follow-up support to families under their jurisdiction
Make frequent visits to families and places of safety of the reintegrated children, reducing to at least monthly for those accessible from town to monitor and cement relationships, and quarterly for those in remote places on the path of graduation
Link family with support for income generation or food security to meet basic needs so that food is available at household level for children not to return to the streets to survive
Set up support groups among groups of guardians in areas where a number of children have been reintegrated to share experiences and provide mutual support